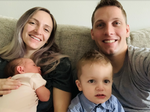 Mom of the Month // April 2022 // Meet Damareece
We are thrilled to announce our first ever Mom of the Month, Damareece!
Damareece lives in Washington and has 2 beautiful children!
She enjoys running and working out (you go!).
Her favorite part of being a mom is watching her littles learn and enjoy new things. She finds every day is a new adventure.
When asked where she would go if she could vacation anywhere, her answer was enthusiastically, "Italy!!!". Same, Damareece. Same. When are we going? ;)
The advice she would give to new moms is something I wish I was wise enough to take to heart earlier in motherhood. "Enjoy the little things. They grow so fast and you only have so much time with them! Leave the mess and enjoy the memories you're making."
Wise, wise words, Damareece. We think you're amazing and we are so happy you were nominated by your friend, Hayleigh.